IV Simulation
A simulation IV burette is used to demonstrate flow rates, provide practice on setting IVs, and counting drops

Create Your Own Tests
Teachers Tools is a separate application which comes packaged with Drug Calculations for Nurses that enables the creation of customised tests.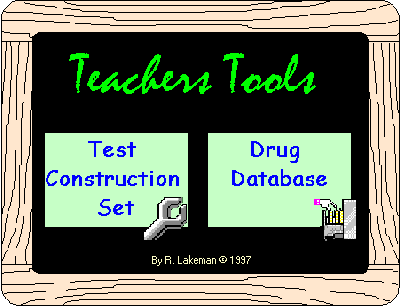 The test construction set allows you to create questions for inclusion in the Drug Calculations for Nurses program, or as files for pen and paper tests. You are able to select the type of question to create and the drug class, from which questions are generated. You can also create your own unique questions and solutions.

Tests can be saved as text files. Choices are offered regarding question style, the inclusion of instructions, answer keys and solutions etc

Drug Calculations for Nurses comes with a limited database of drugs. Drugs can be added, changed and re-categorised for use by Test Construction Set and Drug Calculations for Nurses. For example you could create a class of common drugs which you know students need to be familiar with.